Top 5 Benefits Millennial Employees Need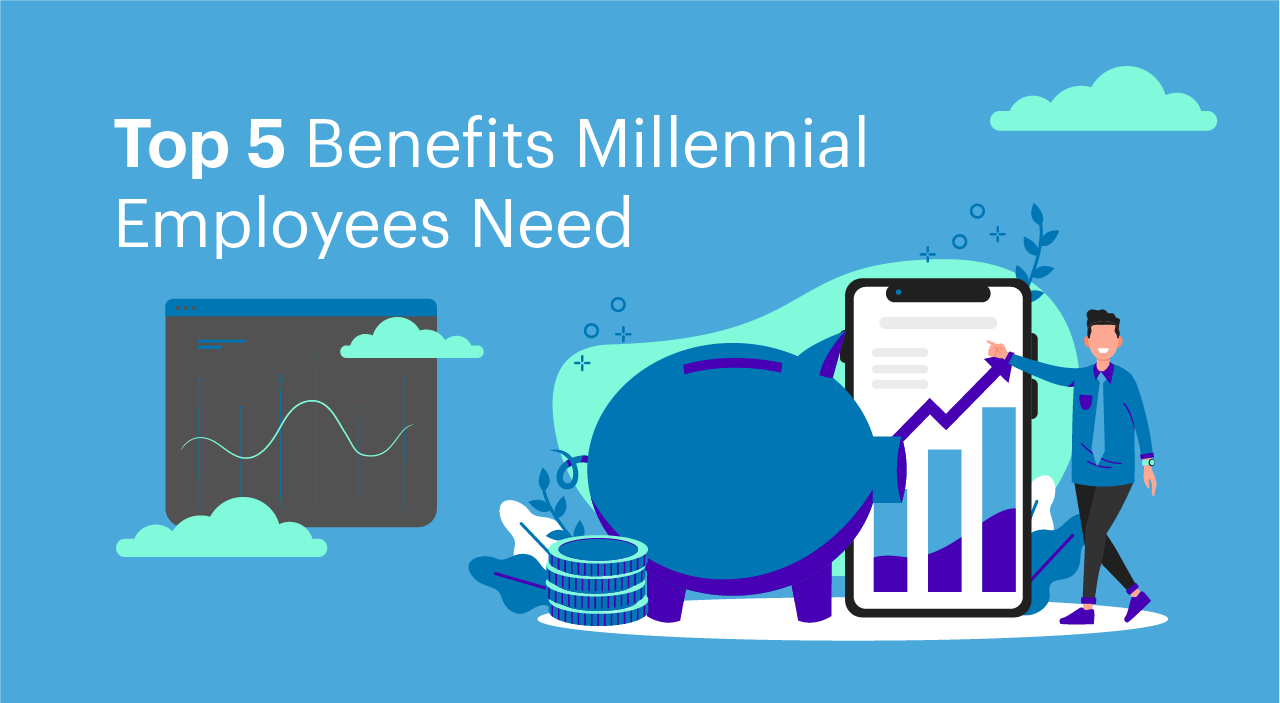 Millennials form the levelled and the new gen-core of the workforce today. At present, nearly 50% of an organization's workforce is driven by employees who believe in out-of-the-box thinking and can stand-by for the ethics and principles of chartering a manifold of churning businesses to precisely draft on what we call, next-gent thinkers. Unsurprisingly, this will notch to 75% by the year 2025. A millennial generation employee tends to bring newer and bolder approaches to work, which is miles away from traditional business practices followed for generations. This makes them a crucial part of any organization which inclines towards innovation and creativity for successfulness.
The needs and aspirations of this new generation are different. This is the reason why it is time that employers re-evaluate their benefits plan specifically keeping the millennial generation in mind. And with this precedented navigation, the organization's talent acquisition teams are necessarily shifting their strategies to effectively meet this changing paradigm of workspace and workforce for it is the call of importance to bring to light, the policies and benefits which the millennial workforce will come to appreciate. By reorienting their hiring strategies to highlight benefits which lean towards the advantage of a young generation will make the organization more attractive for job seekers.
Benefits That Make Your Organization a Millennial Magnet
Millennials are looking for employers who are going above-and-beyond the traditional benefits plans to provide additional value.
The top 5 benefits that millennials wish their employers would include in a flexible benefits plan are:
Financial Wellness
Health Insurance & Wellness Benefits
Opportunities for Advancement
Flexible Work Schedules
Paid Time Off
Financial Wellness & The Millennial Generation
Financial wellness is the ability to save money for long-term goals while managing short-term finances and expenditures. In research conducted by the Society of Human Resource Management (SHRM), it was found that 61% of an average company's workforce was not doing well in terms of financial wellness.
It is one of the major causes of stress among millennial workers. Living from one paycheck to the next paycheck, with a very little amount to save for the future they constantly find themselves unprepared in times of emergencies. This makes financial wellness immensely important for any employee who wishes for financial stability.
Newer Health and Wellness Benefits
Millennials are tech-savvy and wish for technology to be a constant part of their day-to-day lives. When it comes to opting for a health and fitness program, they wish for something different from the traditional programs. As technology is the core of this generation, introducing fitness bands and apps to improve the health and wellness program is an efficient step.
They like to compete and challenge themselves all the time. Comparing steps with their friends, showcasing their workout progress on social media sites, getting together to work out as a group are all attractive features for this generation.
Some of the ways how employers can build a modern wellness program that lives up to millennial expectations are:
Integration of activities with wellness programs like sponsoring a company-wide wellness challenge.
Ease of access to Healthy Snacks
On-Campus area for Workout, yoga and other fitness activities
Stress Management Program
Mental and Emotional Support Programs
Millennials have come to appreciate the importance of fitness in their daily lives. Organizations do not necessarily have to offer these benefits free of cost. The new generation employees are willing to invest in their health and fitness as long as they have the freedom and flexibility to receive these services easily.
Opportunities for Advancement
Opportunities for advancement are crucial for your millennial staff to stay motivated. Millennials are always looking for employers who can provide them with the opportunity to grow professionally while being employed under them. With professional growth and exposure, they can enjoy a higher position in the organization and more benefits. A lot of companies have skill enhancement programs and leadership training as a means of preparing the workforce for the next position.
Research shows that about 21% of the millennial workforce left their previous job for another one that would provide them with the growth and opportunity they deserved. This rate is exceptionally high and is constantly increasing. When you offer professional growth as a part of the benefits program, you can attract, develop, and retain top millennial talent within your company.
Flexible Work Schedule
Flexible work hours are in demand not only by the millennial generation of a company but the other generations as well. Many believe that having flexible work hours is the key to maintain a balanced life. Moreover, this feature is an appealing factor for any company.
A study found that 77% of millennials agreed that having a flexible working schedule would make them more productive at work. Research proves that working at one's own pace and at a time when employees want to work will increase the overall productivity and increase business efficiency.
There are several ways in which flexible work hours can be incorporated by employers. Some examples are:
Setting a standard for the number of hours that an employee should work. This can either be on a per day or a per week basis.
Allowing work from home.
Drafting policies that make room for employees to come in late or leave early with prior notice
Limited/Unlimited Paid Time Off Plans
Surveys showed that about 50% of millennial employees opted for Paid Time Off (PTO) as a part of their benefits program. Workers wanted more breaks from work so that they could maintain a balance and reorient their personal and professional life for better growth and successfulness.
PTO policies add value for employees; it is also a great advantage for employers. Employers that offer millennial workers PTOs are preferred and have a more efficient and highly motivated workforce. The adapting nature of the business and the flexibility it gives to workers is an attractive feature to be included in an employee benefit plan.
In Conclusion
As an employer, it is ideal to offer perks and benefits that can improve loyalty and satisfaction among your employees. The highlight of all these benefits is that it is directly related to an employee's morale and productivity. When an organization is up-to-date with the needs, lifestyle, and ambitions of all its employees, it can achieve growth and successfulness more easily. So, it is necessary to keep in mind that an employee's well-being is crucial for the company to thrive among all sorts of competition.
About MyBenefits360
MyBenefits360 is a fully integrated, flexible benefits SaaS platform for employee engagement, wellness, fitness and benefits administration. We make it easy for employees to enroll in benefits, excite them with savings on wellness services and engage with fitness gamification. With built in analytics and AI powered dashboards, we simplify your benefits administration process, reduce risk and save costs. Whether you have 10 employees or 10,000, with our SaaS platform, we guarantee to onboard your organization in less than one hour, no matter how complex the underwriting.