Employee Wellness Ideas That Will Rejuvenate Your Office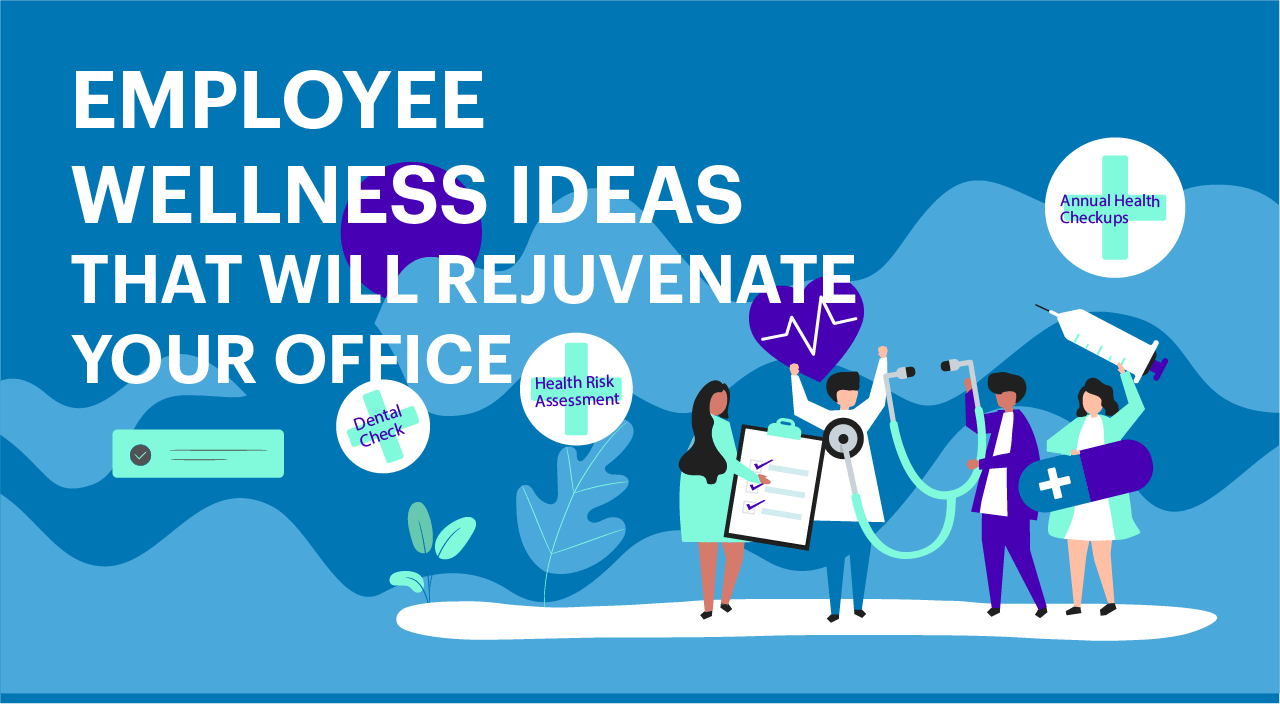 It wasn't until 1979 when the employee wellness program was crafted, as a necessary factor for the workforce. Initiated by Johnson and Johnson, this program helped their organization monitor the health and wellness of their most critical chain – its employees.
Wellness programs are intended to benefit the organization as much as they benefit the employees. With a fit and healthy workforce, you are more likely to achieve higher productivity and have enhanced employee satisfaction in your workplace. Through a good wellness program, you can also reduce employee turn-downs and attrition rates.
Off a recent study, it's observed that about 80% of employees feel involved and taken care of by their employers in companies that offer a robust health and wellness program.
One of the key ingredients to having a successful wellness program for all employees is to promote the overall wellbeing of the workforce while keeping it amusing and caught up. The more engaging your wellness programs are, the more passionate your employees will be.
Areas of Interest for Employees
Let's take a look into some modern and tech-friendly changes that can be brought to your company's wellness programs that will make it more friendly for employees. Employees like immersive programs and they like to be rewarded for their efforts.
An average employee likes programs to be immersive, all including, benefitting and relevant to what they are doing. Employees look for programs that offer higher flexibility and allow them the freedom to use the program to their convenience. For instance, a discounted gym membership could be useful for your employee when it provides access to a 24X7 gym which can be visited at their convenience.
Effective wellness programs will help employees bring positive lifestyle changes that improve their health. It could also introduce meditation, and/or yoga programs or patch in sessions to help them quit smoking or lose weight or techniques to reduce work stress.
Rewards System
From the cradles to pits, everyone loves to be rewarded. As humans, we canopy the foundation of our lifestyle to be on accords of rewards for the contributions we make. From a recent experiment on the top binge of the startup line, the study on research's effectiveness was undertaken. The result was as conclusive as,
"for a wellness program to see the active participation of all employees, a reward system needs to be implemented"
Rewarding employees by any means for minimal tasks like walking 10,000 steps per day, or meditating for 5 minutes can help to boost their morale. Healthy competition is established by creating a wellness challenge with rewards for employees. Implementing a wellness program across all departments and segments of a company also becomes easier through a rewards system.
It has been found that the rewards system is steadily gaining popularity among companies from all platforms. Three out of four companies (a whopping 75%) who have implemented a reward system to generate a better return on investment from their employees. Some of the advantages of having a reward system at work include:
Creates A Strong Employer Brand
Attracts Potential Candidates
Stimulates Development of an Employee
Enhances Teamwork Spirit
Increases Productivity
Brings a Sense of Satisfaction and Builds Morale
Healthier Snacks & Eating
Proper eating is an essential part that contributes to one's overall wellness, however, it is often difficult to address this point at a workplace. A solid step in improving the wellness program for all employees and employers alike is to introduce healthier snacks at work. Offering snacks (both paid and free) to employees that have high nutritional value prompts them to make a switch towards healthier eating.
An employee's diet affects their professional life. Statistics have found that employees who eat healthily have shown an improvement in their job performance by 25%.
Standing Desks & Other Amenities
Adjustable-height standing desks that allow users to easily switch between a standing and a sitting position has become the new hype among employees nowadays, especially those belonging to the millennial generation. The concept of a standing desk gained popularity after it was found that sitting for a stretch over hours causes several health-related problems. Employees realized that switching between a standing and sitting position will be better for their overall health and productivity.
Ergonomic furniture at the office goes a long way in improving productivity as well as helping your employees stay fit. Even though sitting is a natural body function, staying seated for a long period of time is unnatural. As a result employees end up feeling uncomfortable staying seated for a long time especially when the furniture is not well-suited for sitting comfortably. To a certain extent ergonomic furniture solves this problem helping employees reduce the tension built on their body.
Other amenities that can be included in the wellness program by the employer may include a small workout area, meditation room, yoga classes, coupons to different fitness activities like Zumba or Pilates, etc.
Stress Management
Stress drains employees of their health and productivity, their energy levels drop making the task at hand more difficult. Moreover, stress is also the primary cause for an employee's bad mood, and their judgment faltering.
According to a stress report:
80% of employees experience stress at work
More than 50% of workers would like better help when it comes to stress management
Employers can present stress management programs once in a while to help their employees get the tools they need to deal with stress.
Employees should be made aware of a practice known as mindfulness. This helps them focus more on awareness and acceptance of the present, thus blocking out thoughts of the past and the future that is mostly the leading cause of stress.
Mental Health in Corporate Wellness Programs
Employers need to specifically pay attention to mental health as it is the leading contributor to a range of physical illnesses like hypertension, cardiovascular conditions, diabetes, and other diseases. Poor mental health can also lead employees to burn-out, thus affecting their overall functionality.
One of the best ways in which employers can focus on the mental health of their employees is through the creation of an employee assistance program (EAP). EAPs are useful in providing mental health professionals and other services to their employees while maintaining strict standards of confidentiality. Other ways of focusing and working on mental health include having group discussions, a comfort zone for employees to work and reflect on themselves, conducting seminars, and making the awareness of mental health a priority, etc.
The Spice of Technology
With technology disrupting our lives in all possible ways, organizations stand at an advantage forthwith to provide better access to wellness programs to their employees. Currently, technology offers a colossal variety of collateral builds and ease of access.
Doctor consultations, fitness apps, health risk assessments and on-demand mental counselling are just a tiny clique of wellness services, easily accessible over the internet. Some innovative startups have gone a step ahead by aggregating a large number of these offerings to a single platform, bridging the need for multiple wants and building convenience. Taking the experience to yet another level, some companies add rewards and challenges, gratifying the entire experience for employees. These services become even more enriching and exciting for employees when corporates either buy for their employees or empower their employees to get these services at corporate (discounted) rates. Whether you think of a fitness tracking app or rendering health check-up services for your employees, with the help of technology, you can effortlessly encourage employees to meet their fitness goals.
In Conclusion
While balancing work and personal life, a majority of employees make taking care of their health and fitness a second priority. Most employees simply do not allocate the time to look after and work on themselves. Introducing a wellness program that helps employees to actively take part and see results while they are employed is a great way in which employers can help generate higher satisfaction levels for their employees.
About MyBenefits360
MyBenefits360 is a fully integrated, flexible benefits SaaS platform for employee engagement, wellness, fitness and benefits administration. We make it easy for employees to enroll in benefits, excite them with savings on wellness services and engage with fitness gamification. With built in analytics and AI powered dashboards, we simplify your benefits administration process, reduce risk and save costs. Whether you have 10 employees or 10,000, with our SaaS platform, we guarantee to onboard your organization in less than one hour, no matter how complex the underwriting.